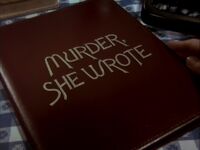 Murder, She Wrote: Season One
Murder, She Wrote: Season Two
Murder, She Wrote: Season Three
Murder, She Wrote: Season Four
Murder, She Wrote: Season Five
Murder, She Wrote: Season Six
Murder, She Wrote: Season Seven
Murder, She Wrote: Season Eight
Murder, She Wrote: Season Nine
Murder, She Wrote: Season Ten
Episodes:

"A Death in Hong Kong"
"Roadkill"
Murder, She Wrote: Season Eleven
Murder, She Wrote: Season Twelve
Murder, She Wrote: TV Movies
The Law & Harry McGraw
Novels
Games
DVDs
Production Information
[
]
Production Number:
Aired:
Written By:
Directed By:
INSERT EPISODE SCREENHOT HERE
Created By:
Executive Producers:
Producer
Summary
[
]
Jessica's trip to Hong Kong is interrupted by the murder of an American businessman negotiating a merger with a Chinese tycoon.
Trivia
[
]
Hong Kong was a British colony; vehicles drive on the left side of the road, cars have steering wheel on the right.
When Louise was telling Emma & Brian that she had called Paris, which was 7:30 am, Paris time & the meeting was set up for 2:30, & David Kuan had said that he was unaware of a 2:00 meeting, that was 7 hours time difference, because 7:30 to 12:30 is 5 hours, 1:30, six hours, 2:30, 7 hours, & the time difference between Paris & Hong Kong is 6 hours.
Victim: Brian Dunbar
Louise may have been in the car when she made the call, so I can see how the recorder would recorded the call to Ravel in Paris, but when Louis went to get the tape, the car had to be running in order for her to think that Jessica was hearing the recording, & yet, Louise can definitely hear that the car wasn't running, so why think that Jessica was listening to the tape ?
Killer: Louise Walton
Cause of Death: Poisoned
Motive: To get rid of both both Brian and Emma (by framing her for the murder) for fear they'd replace her with a Chinese counterpart after the merger was complete.
Starring
[
]
Regular Cast
[
]
Angela Lansbury as Jessica Fletcher
Recurring Cast
[
]
Guest Stars
[
]
Teri Austin as Louise Walton
Barrie Ingham as Brian Dunbar
Dustin Nguyen as David Kuan
France Nuyen as Emma Soon Dunbar
Soon-Tek Oh as Kai Kuan (as Soon-Teck Oh)
James Sutorius as Mark Tower
David Warner as Insp. McLaughlin
Vivian Wu as April Dunbar
Calvin Jung as Chang
Raymond Ma as Mr. Li
Jen Sung as Chinese Kidnapper (as Jen Sung Outerbridge)
Phil Chong as Chinese Kidnapper (uncredited)
Al Goto as Chinese Kidnapper (uncredited)
Episode Chronology
[
]
See Also
[
]
External Links
[
]