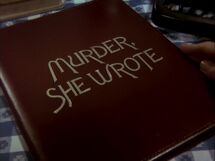 Murder, She Wrote: Season One
Murder, She Wrote: Season Two
Murder, She Wrote: Season Three
Murder, She Wrote: Season Four
Murder, She Wrote: Season Five
Murder, She Wrote: Season Six
Murder, She Wrote: Season Seven
Murder, She Wrote: Season Eight
Murder, She Wrote: Season Nine
Episodes:

"The Mole"
"A Christmas Secret"
"Dead Eye"
Murder, She Wrote: Season Ten
Murder, She Wrote: Season Eleven
Murder, She Wrote: Season Twelve
Murder, She Wrote: TV Movies
The Law & Harry McGraw
Novels
Games
DVDs
Production Information
[
]
Production Number:
Aired:
Written By:
Directed By:
INSERT EPISODE SCREENHOT HERE
Created By:
Executive Producers:
Producer
Summary
[
]
The future son-in-law of a prominent Cabot Cove family is suspected in a shooting.
Trivia
[
]
The trivia item below may give away important plot points.
[
]
No one was actually murdered. There was an attempted murder, but Doc Seth Hazlitt said that the victim would make a full recovery. And, she did.
A cassette with noticeable songs on it would hardly be used to leave a blackmail message.
Amy may have known that the weapon was in Charlie's motel, but not once was it known for her to know where in the room the weapon would be.
With hearing Charlie bringing up that his car was rented, & with hearing Floyd putting it out there as to where he got his car, would tell Wanda that where she put the tape was the wrong car, no matter what the color of the car should matter, now does it ?
Floyd's car does not have a shade of green, it has a shade of blue, so explain how Wanda can confuse Floyd's car for Charlie's especially when she can see for herself that Floyd's car is a shade of blue. When it comes color blindness, would confuse red & green, not red & blue.
When Ron Masak's Metzger was leading the Christmas Chorale, the caroling was too faced paced, it was too adult, they didn't have the Christmas feeling at all because it was too fast paced.
I can see the need for two santa suits. But, the Santa that Charlie had seen he assumed was Seth, but Seth had already had left at the time of the shooting, so was there a need for Charlie to confuse Amy's Santa for Seth's Santa, given that Seth's Santa had left before the shooting ?
Starring
[
]
Regular Cast
[
]
Angela Lansbury as Jessica Fletcher
Recurring Cast
[
]
Ron Masak as Sheriff Morton Metzger
William Windom as Dr. Seth Hazlitt
Louis Herthum as Deputy Andy Broom
Guest Stars
[
]
Diane Baker
Corinne Bohrer
Amy Brenneman
Sean O'Bryan - best known for his role in both movies of "The Princess Diaries" film series as High-School English teacher turned step-father, Patrick O'Connell - as
Eileen Seeley
Ken Swofford as Alan McCumber
Mary Tanner
Larry Wilcox
Co-Stars
[
]
Craig Hamman as Bert Lazarus
Episode Chronology
[
]
See Also
[
]
External Links
[
]