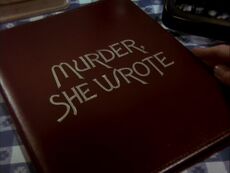 Murder, She Wrote: Season One
Murder, She Wrote: Season Two
Murder, She Wrote: Season Three
Murder, She Wrote: Season Four
Murder, She Wrote: Season Five
Murder, She Wrote: Season Six
Murder, She Wrote: Season Seven
Episodes:

"A Body to Die For"
Murder, She Wrote: Season Eight
Murder, She Wrote: Season Nine
Murder, She Wrote: Season Ten
Murder, She Wrote: Season Eleven
Murder, She Wrote: Season Twelve
Murder, She Wrote: TV Movies
The Law & Harry McGraw
Novels
Games
DVDs
Production Information
[
]
Production Number:
Aired:
November 11th, 1990
Written By:
Donald Ross
Directed By:
Anthony Pullen Shaw
INSERT EPISODE SCREENSHOT HERE
Created By:
Peter S. Fischer
Richard Levinson
William Link
Executive Producers:
Peter S. Fischer
Producer
Anthony Magro
Robert F. O'Neill
Robert E. Swanson
Robert Van Scoyk
Summary
[
]
The owner of a new, hot fitness club in Cabot Cove has secrets that lead to murder.
Trivia
[
]
One of the few mysteries set in Cabot Cove without Dr. Seth Hazlitt, because William Windom was starring in the short-lived series Parenthood (1990). Ben Devlin took his place as a close male friend of Jessica.
As of 2011, this is the last screen appearance of actor James Olson.
Victim: Fred Keppard (was meant to be Wayne Bennett)
Killer: Clarence La Rue
Cause of death: Gunshot
Motive: Combination of drunkenness and anger over thinking his wife Nancy was having an affair with Wayne.
Goofs
[
]
When Jessica, Nancy, and Ben Devlin are riding their bicycles, they pass a sign for Navarro something-or-other that's partially blocked by a tree. Navarro would be found in Mendocino, California, the filming location, not in Maine, the setting.
In the reveal by the killer, it shows the killer firing a gun directly at the camera on the ground level. In reality, the killer would have fired up as the victim was on an upper level.
Starring
[
]
Regular Cast
[
]
Angela Lansbury as Jessica Fletcher
Recurring Cast
[
]
Julie Adams as Eve Simpson
Ron Masak as Sheriff Morton Metzger
Will Nye as Deputy Floyd
Joe Dorsey as Ben Devlin
Guest Stars
[
]
Jason Beghe as Wayne Bennett
Alix Elias as Mrs. Veronica Hardin
Ruta Lee as Renee Finster
Ernie Lively as Joe Hardin
Patricia MacPherson as Betty Bennett
Hugh O'Brian as Fred Keppard
James Olson as Clarence La Rue
Sally Struthers as Nancy La Rue
Co-Stars
[
]
Michele Bernath as Woman
Paul Lueken as Paramedic
Katharine Durish as Receptionist
DVD Release
[
]
Episode Chronology
[
]
See Also
[
]
External Links
[
]